When you have a clear idea why you're hiring and who the ideal candidate would be, it's time to write a job description and compose the job ad. Your job ad should clearly communicate the responsibilities, key skills, but should also mention what's in it for the candidate, in other words, compensation and benefits.
1. The job title & Job description sells your position
It's basically the first thing that candidates look at. Traditional job titles are easier to identify with and are more likely to be found when searched for. Creative naming can increase interest (but also confuse some candidates). Be careful with that.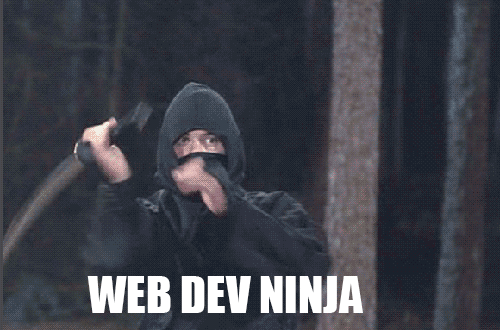 2. Key responsibilities
What is the daily work routine for this position?
Tip:
Try to be as specific as possible, you may even divide the day into a pie chart of responsibilities during the day. This gives your candidate a great overview of what to expect from the job.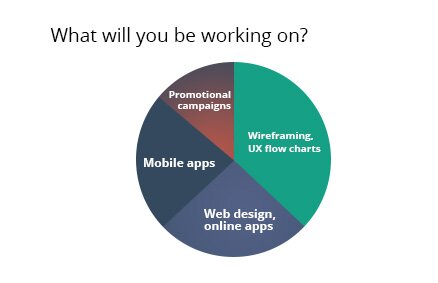 3. Required skills and qualifications
List all that are mandatory, be careful not to list too many desired or preferred.
Tip:
We recommend listing 4-5 skills max.
4. Location
If you also offer remote work possibilities, don't forget to mention it. Does the job involve any travelling?
Tip:
Is there something cool nearby your market place? Don't forget to mention it as well.
5. Engaging company profile = Show your company culture
Give the candidate an idea of your company culture and values. Your company culture is the best advertising you can have. Remember, millennials are not as money-driven as previous generations. They want to work in a cool place and feel good at work.
Tip:
Show candidates that your company is the best place to work – cool offices, an awesome restaurant your team likes to go for lunch, photos from your team-buildings, everything counts. You don't have to be a professional photographer – everything looks cooler with an Instagram filter :)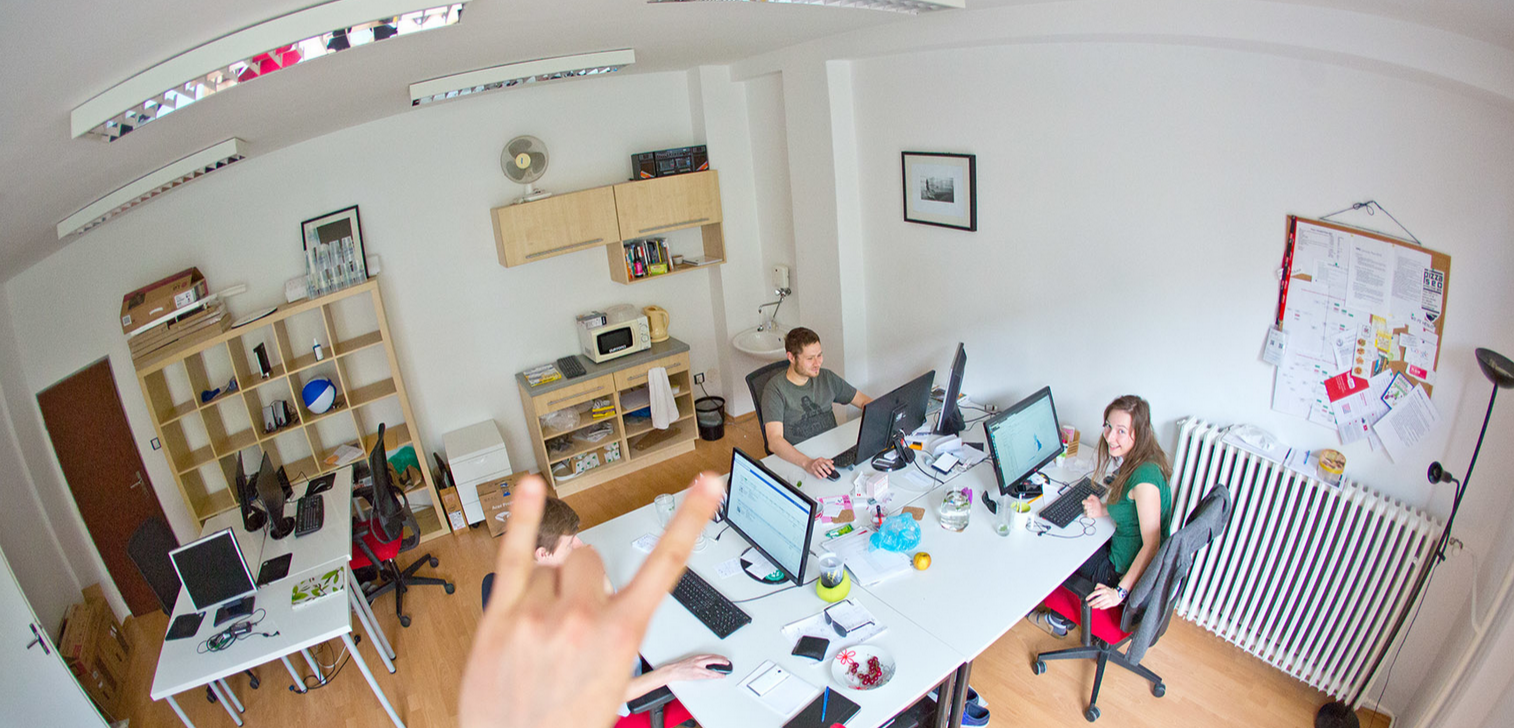 6. Employment type
Is it a part-time or full-time role? Are you looking for an intern? Or is the position project-based only?
Tip:
Millennials like their freedom. Is it a full-time role but flexible working hours? Don't forget to mention it.
7. Compensation & Benefits
If you're OK with publicly showing the position's compensation range and offered benefits, feel free to do so. It's very often the deciding factor for the candidate. Many companies still list their demands only, and forget about the candidate's motivation
Tip:
Can you bring your dog to work? Do you have company breakfasts? Do you have a nice terrace for barbecues? Add those to benefits too!

8. Company contact information + Recruiter contact
Although this is pretty obvious, many companies forget to include proper contact information and the credibility of such an offer rapidly decreases.
Tip:
Add the name and photo of your recruiter as well.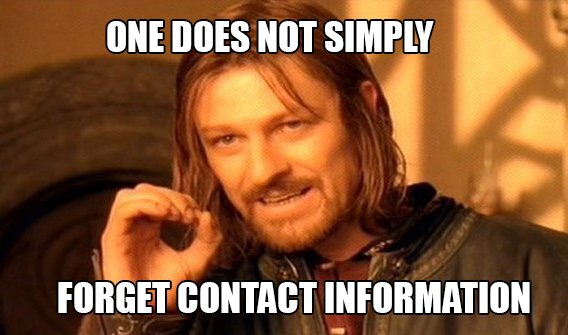 9. Show potential colleagues
Our stats show that job ads that are more personal (and companies that show real people behind the recruiting process) get a better response rate.
Tip:
Write something small and nice about the people who'll be in the team with the candidate.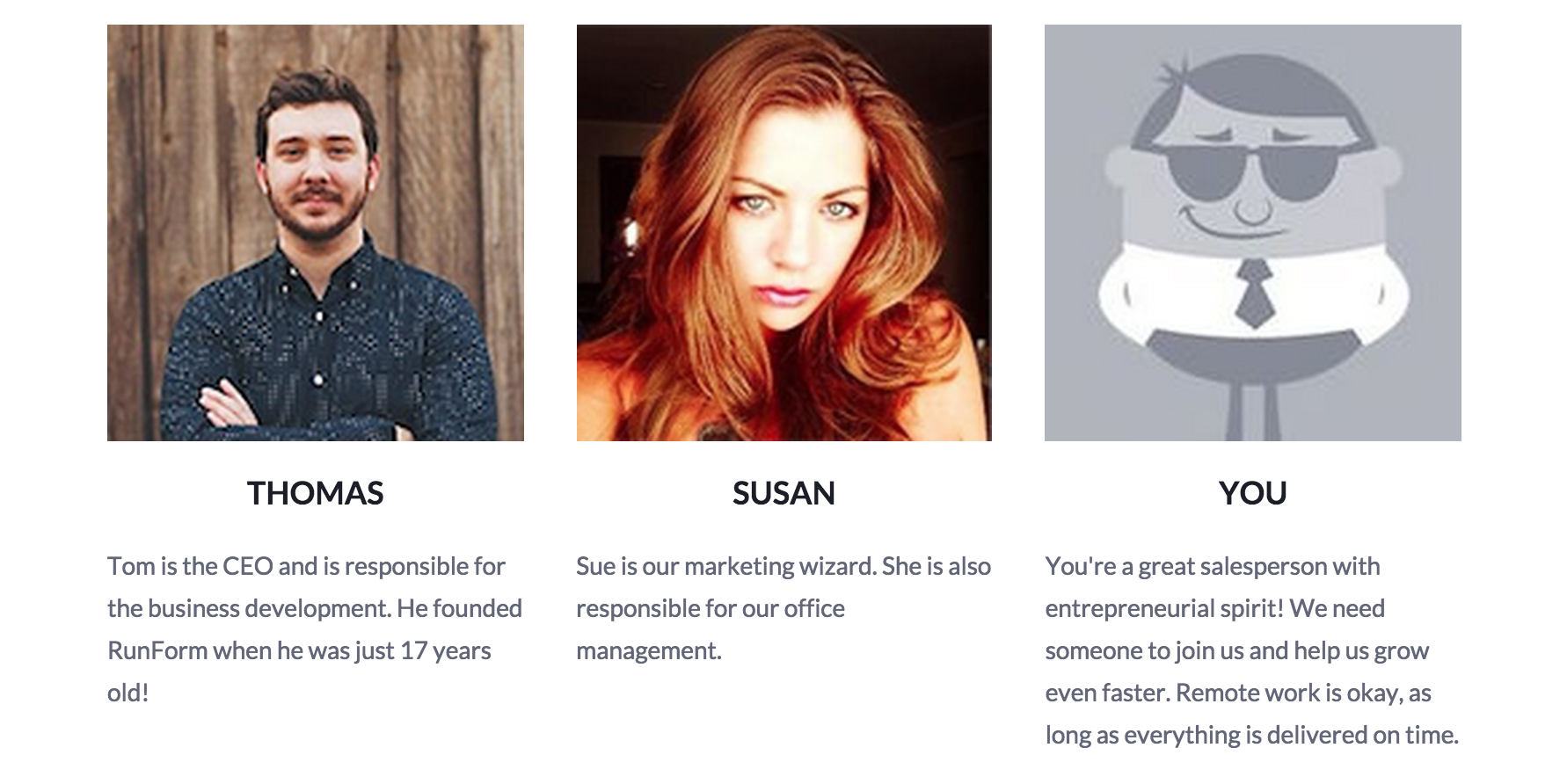 10. Add a questionnaire
InHiro Interview feature helps you target your candidate more precisely. Get to know your applicant before face-to-face interview. Just ask what you want, the response could be set as optional.
Tip:
The Interview feature not only saves you time but is a great chance to research what type of candidates apply to your job positions.

11. Rename your Apply button
Don't use "Apply now" on your apply button. It's too direct and definite. Some candidates might not be sure if they really want to work for you. Instead of that add to the button text that will make them intrigued in your company.
Tip:
What about: Let's talk, Let's have a coffee with us, Tell me more…


Your writing style for the job description
Try to incorporate the company culture into the job ad. If you're a young startup, feel free to get more personal with the wording.
Avoid vague words and clichés. "Young, dynamic team" is not considered a benefit (unless you provide a team photo of your company on a raft)
Be honest and open. Stay human and kind.
Add multimedia and interaction
Photos, icons, powerful imagery. We live in an era relying heavily on visual input. Photos communicate more quickly and carry emotion. Use images to your advantage!
Do you have a promotional video for the position or company? The job ad may be seen by your potential customers as well. Go promote yourself! Make a personalised Vine invitation from future colleagues – everything personal counts.
Some time ago, job ads were almost only about posting your needs. But hey, it's the interwebs, let's interact! We call it The Handshake moment. Our templates contain these smart mechanics – they create the crucial first connection between the employer and the candidate. Use the "Interview" module to simply ask questions before even meeting the candidate. This way, even passive candidates are offered the possibility to interact with you without being forced to apply.
Introduce real faces, the existing team members or office photos.
Adjust the style
Collect graphic assets of your company, the most important one probably being the company logo. Include it in your job ad.
Adjust the colours of the job ad so that they match your company's design manual. The candidates will then easily connect your job ad with the brand they know and trust.
Create your ideal job description now >
Comments
comments